MEC BikeFest Comes Back to the Olympic Village
Celebrate Cycling This Saturday at MEC BikeFest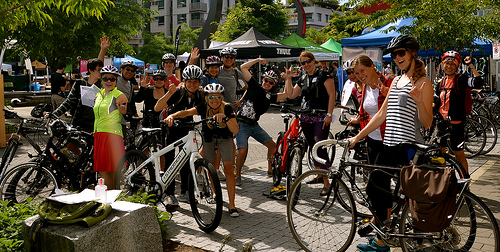 After a successful first year in 2013 MEC is bringing the MEC BikeFest back to the Olympic Village on Saturday. You can try out gear, test ride their range of bikes, browse exhibitors' booths, score deals at the MEC Bikeswap, or learn a range of new skills at our clinics and talks. There'll also be guided bike rides, entertainment, food vendors, and kids' activities.
MEC BikeFest Clinics and Rides
A series of clinics and rides will be offered throughout the day. Topics covered will include road cycling, fitness, nutrition, and bike maintenance. A full schedule can be found here.
Cycling BC Bike Raffle
Enter the Cycling BC Bike Raffle for a chance win a MEC Attack, Carbon Road Bike. Raffle tickets will cost $5.00 each and will be available to purchase at the Cycling BC tent on the day of Bikefest or you can purchase online at www.cyclingbc.net/raffle. All money raised will go to the Cycling BC iRide schools program.
200M Sprints
The Gold Sprints team will be running competitions throughout the day on their set of 4 fixed bicycles, including 200m sprints (for adults and children!) and 2000m team races.
MEC Gear Swap
MEC Bikefest will once again be home to our legendary MEC Gear Swap. MEC Gear Swap is the best place to find great deals on previously-loved cycling and hiking/camping gear.
Free Engraving on all Bicycles by the VPD
VPD Community Policing will be on hand to offer free engraving on all bicycles. Should you ever be the unfortunate victim of bicycle theft, this engraving can aide in the return of your lost bike.
The Bicycle Valet
Bring your bike to BikeFest (naturally) and you can leave you lock at home. The Bike Valet will be on hand to keep it safe.
Free Bike Maintenance
MEC Bike Mechanics will be on hand at BikeFest to offer free basic inspections, advice, and adjustments. This is first come, first served and I am sure will book up fast. 
It looks like a great day!
When: Saturday, 14 June, 2014
Time: From 10:00 am to 03:00 pm PDT
Where: The Village on False Creek
Price: Free
More info.
---
Are you ready to live in SE False Creek? Call Matt today at 604.916.4663, or search for your new home here.