Public Hearing on Re-Zoning in SE False Creek
SE False Creek Land East of Olympic Village to be Re-Zoned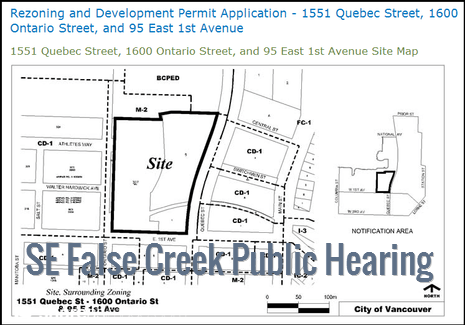 Concert Properties has applied to re-zone the lots in Southeast False Creek directly to the East of the Olympic Village with the intention of creating a new 5 building development, plus a park with walking and cycling paths, and an internal street network (although that appears to be pretty minimal). The City has called a Public Hearing on the matter. It is taking place next Tuesday June 3, 2014 at City Hall.
According the City's website on the hearing:
The City of Vancouver has received an application to rezone areas 3A and 3B in the Southeast False Creek (SEFC) Official Development Plan (ODP) from M-2 to CD-1 (Comprehensive Development) District to permit a neighbourhood development comprised of:

a waterfront park, greenway/bikeway paths, an internal street network;
five residential buildings consisting of one 18-storey building, two 15-storey buildings, one 14-storey building, and one 12-storey building;
with a total floor area of 58,020 m² (624,522 sq. ft.) including 48,272 m² (519,595 sq. ft.) of market residential in four buildings and 9,748 m² (104,927 sq. ft.) of non-market affordable rental floor area
It is too late to register in advance to speak at this meeting (sorry), but you can register in person at the door between 5:30 and 6 pm on the day of the Public Hearing. I am sure there will be a lively discussion of the plans for the large site between Science World and West 1st Ave and between Quebec St and Ontario St.
More details on the SE False Creek Re-zoning Application can be found here.
Where: Council Chamber, Third Floor, City Hall, 453 West 12th Avenue
When:  Tuesday, June 3, 2014 at 6 pm
Interested in new developments in SE False Creek? Get our e-newsletter here.